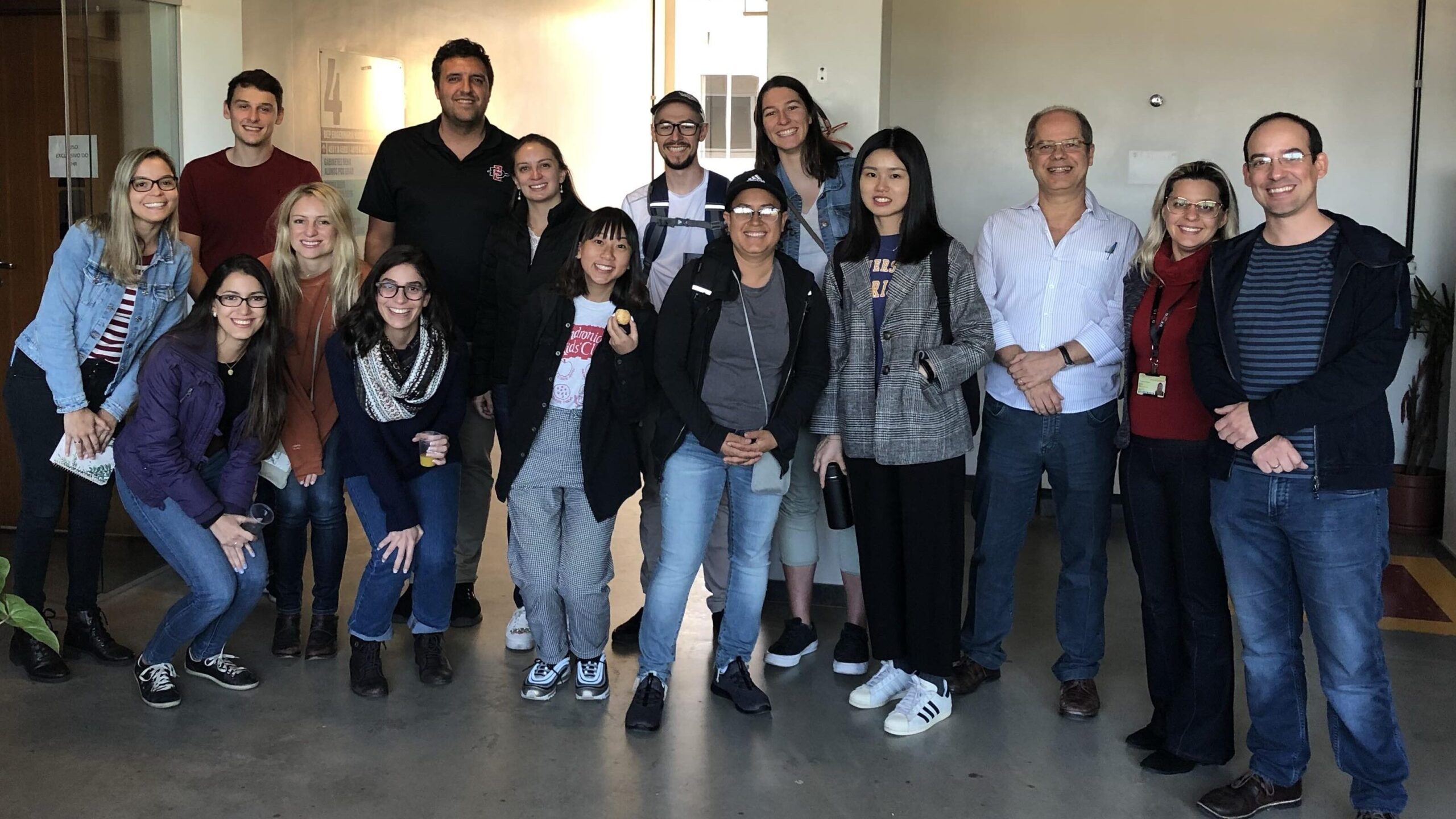 Applications are now open to be part of the 2023 cohort. The deadline to apply is February 15, 2023.
Scroll down to learn more about the project, read about the eligibility requirements, and meet the project team before submitting an application.
Learn More
About the Project
Learn more about our NSF IRES project.
Our Team
Meet the researchers and mentors on our team.
Eligibility
Find out if you're eligible to apply this year.
Research Findings
Read about the preliminary results and findings from the research done by the student participants in Brazil.
About the Project
The National Science Foundation (NSF) International Research Experiences for Students (IRES) project supports international research and research-related activities for U.S. science and engineering students. The IRES program contributes to development of a diverse, globally engaged workforce with world-class skills, focusing on active research participation by undergraduate and graduate students in high quality international research, education and professional development experiences. The overarching, long-term goal of the IRES program is to enhance U.S. leadership in science and engineering research and education and to strengthen economic competitiveness by training the next generation of research leaders.
Our NSF IRES project, with collaboration in Brazil, focuses on expanding perspectives on water and sustainability. Clean water and safely managed sanitation and wastewater treatment are essential engineering services that protect human health and the environment. However, there are major challenges preventing many people from having access to these services. These challenges are just as much social as they are technical. We are integrating social science and intercultural perspectives into engineering research to develop safe and sustainable approaches to address water, sanitation, and wastewater treatment challenges throughout the world.
Click on any of the images below to learn more about the research themes and the projects completed by prior NSF IRES participants from SDSU and Cal Poly Pomona. Participants in the 2023 cohort will most likely work on one of these projects.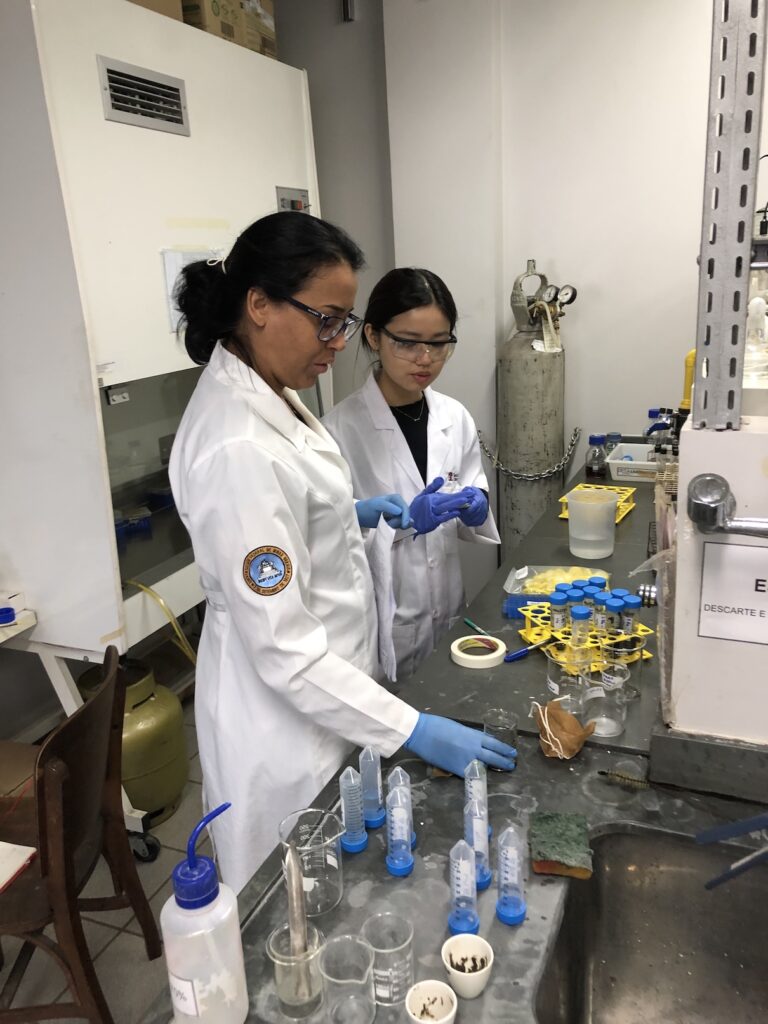 Our Team
Our team of mentors includes professors from civil and environmental engineering, microbiology, anthropology, and urban architecture at San Diego State University (SDSU), California Polytechnic University at Pomona (CPP), and the Federal University of Minas Gerais (UFMG).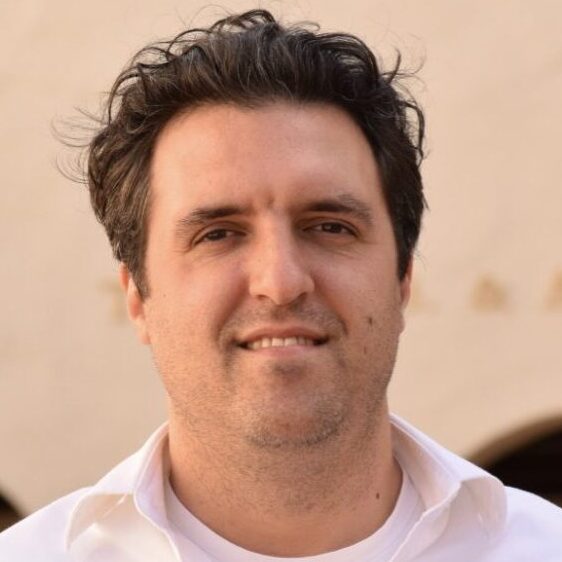 Matthew Verbyla
Assistant Professor
Environmental Engineering
San Diego State University
Areas of Research:
Waterborne pathogens
Wastewater treatment
Microbial risk assessment
Wastewater surveillance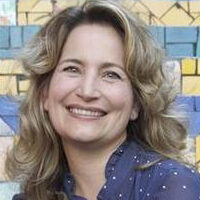 Erika Larkins
Associate Professor of Anthropology
Behner Stiefel Chair of Brazilian Studies
San Diego State University
Areas of Research:
Violence and inequality in low-income urban settings
Extreme heat, inequality, and environmental racism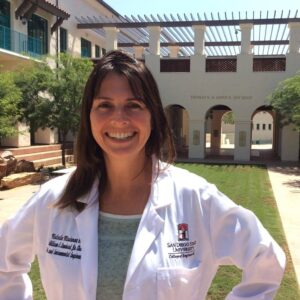 Natalie Mladenov
Professor
Environmental Engineering
San Diego State University
Areas of Research:
Microplastics
Wastewater treatment
Fluorescence based sensors
Nutrient removal, anammox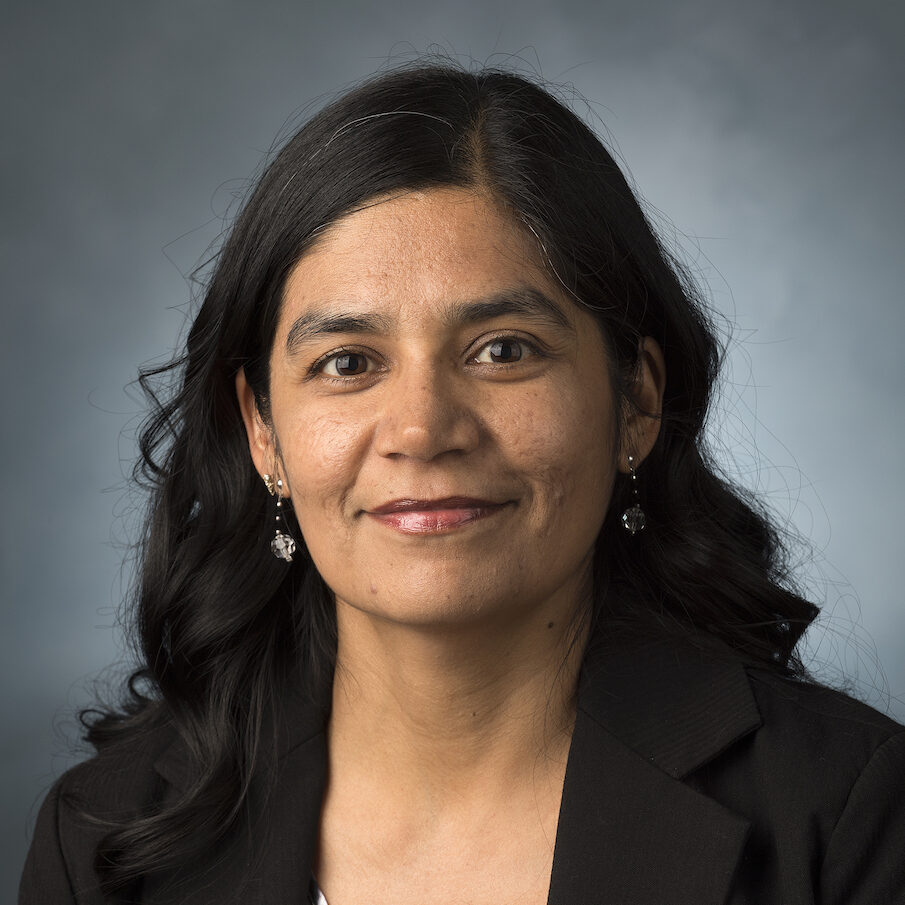 Monica Palomo
Professor
Civil Engineering
Cal Poly Pomona
Areas of Research:
Water Resources
Hydraulic Engineering
Wastewater treatment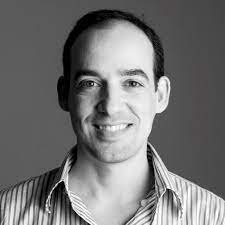 Cesar Mota
Professor
Sanitary Engineering
UFMG, Brazil
Areas of Research:
Waterborne pathogens
Wastewater treatment
Wastewater surveillance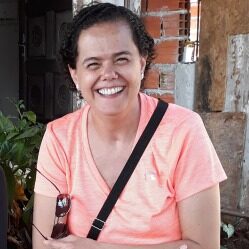 Denise Morado
Professor
Architecture
UFMG, Brazil
Areas of Research:
Autoconstruction in urban environments
Collaborative processes to mediate between architects and residents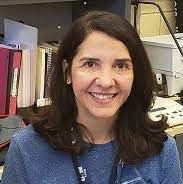 Juliana Calabria
Professor
Wastewater Microbiology
UFMG, Brazil
Areas of Research:
Antibiotic resistance
Wastewater microbiology
Nutrient removal, anammox
Eligibility Requirements
This program is open to any student who will be enrolled in a degree program at San Diego State University (SDSU) or California Polytechnic State University, Pomona (CPP) by Fall semester 2023. In order to be eligible, any student who plans to graduate in Spring 2023 must have applied to a graduate program at SDSU or CPP to start in the Summer or Fall of 2023. All students are encouraged to apply, but preference will be given to students with Portuguese language skills and students from engineering, anthropology, sociology, urban studies, public health, biology, chemistry, and other sustainability-related disciplines with junior, senior or graduate student standing and a strong motivation to complete an independent research project. Exceptional pre-major students (first-year, sophomores) will be considered on a case-by-case basis, especially if they demonstrate a strong interest in research (i.e., plan to do a PhD someday) and/or are fluent in Portuguese. Students from SDSU Imperial Valley campus are strongly encouraged to apply.
NOTE: This year, the applications will also be open to students who participated in the program between 2019 and 2022. If you are applying as a returning student, you must provide an additional answer to a question about why you want to return to Brazil for a second time through this program.
Results from Previous Projects
Virus removal and liquid/solid partitioning in UASB reactors and high rate algal ponds
Objectives and findings
The objective of this project is to quantify the association of viruses, bacteria, and antibiotic resistance genes with solids inside a wastewater treatment system consisting of an upflow anaerobic sludge blanket (UASB) reactor followed by a high rate algal pond (HRAP).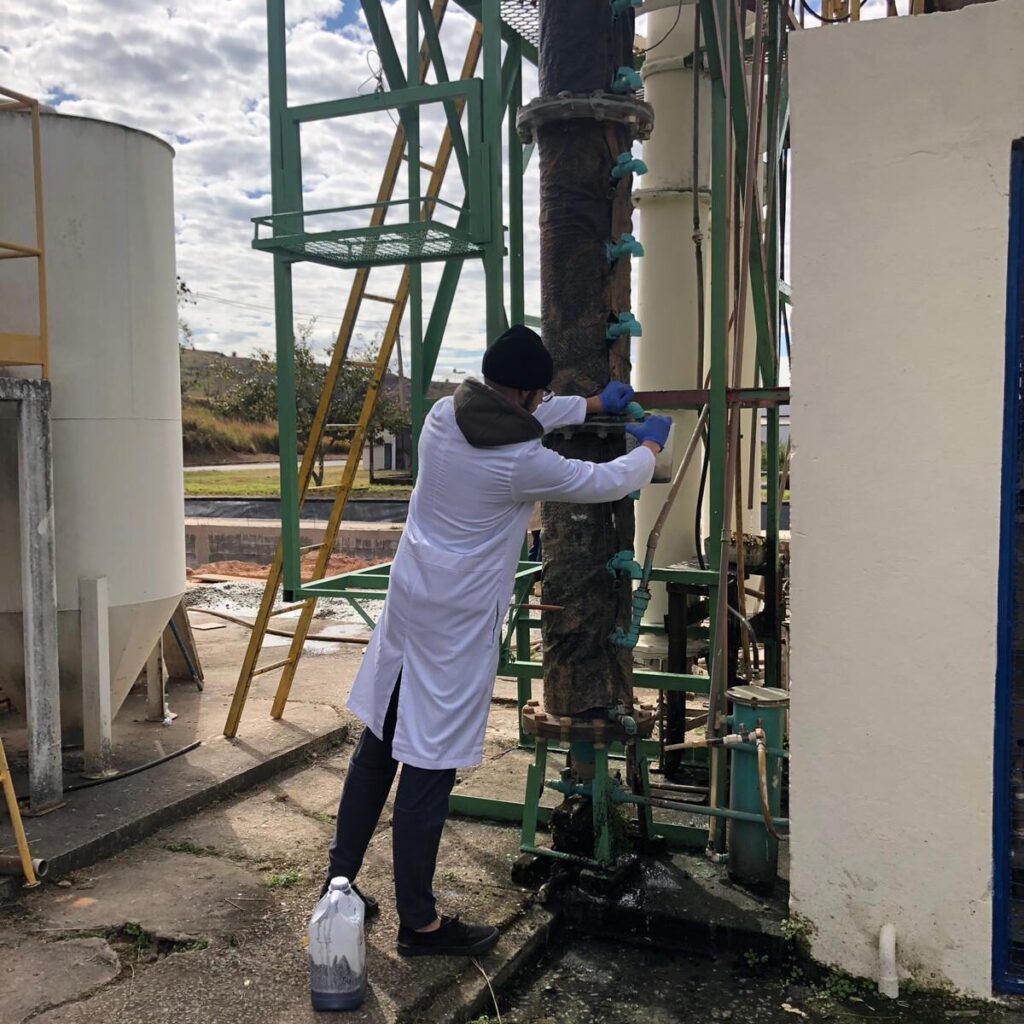 Research outputs
Espinosa, M.F., Verbyla, M.E., Vassalle, L., Machado, A.T., Zhao, F., Gaunin, A., Mota, C.R. (2021). Reduction and partitioning of viral and bacterial indicators in a UASB reactor followed by high rate algal ponds treating domestic sewage. Science of the Total Environment, 760, 144309. https://doi.org/10.1016/j.scitotenv.2020.144309
Espinosa, M.F., Verbyla, M.E., Vassalle, L., Leal, C., Leroy-Freitas, D., Machado, E., Fernandes, L., Rosa-Machado, A.T., Calábria, J., Chernicharo, C., Mota, C.R. (2022). Reduction and liquid-solid partitioning of SARS-CoV-2 and adenovirus throughout the different stages of a pilot-scale wastewater treatment plant. Water Research, 118069. https://doi.org/10.1016/j.watres.2022.118069
Performance of wastewater treatment reactors that utilize the anaerobic ammonium oxidation (anammox) process
Objectives and findings
The objective of this research was to quantify the performance of anammox systems in the removal of antibiotic resistant bacteria from wastewater. This was done by introducing samples of influent and effluent wastewater from three anammox reactors to petri dishes containing agar impregnated with seven antibiotic and antibacterial substances and counting the number of surviving colonies before and after treatment. Preliminary results indicate that bacteria resistant to meropenem, a high strength antibiotic that is administered intravenously in hospitals, exhibited the lowest average and most variable removal.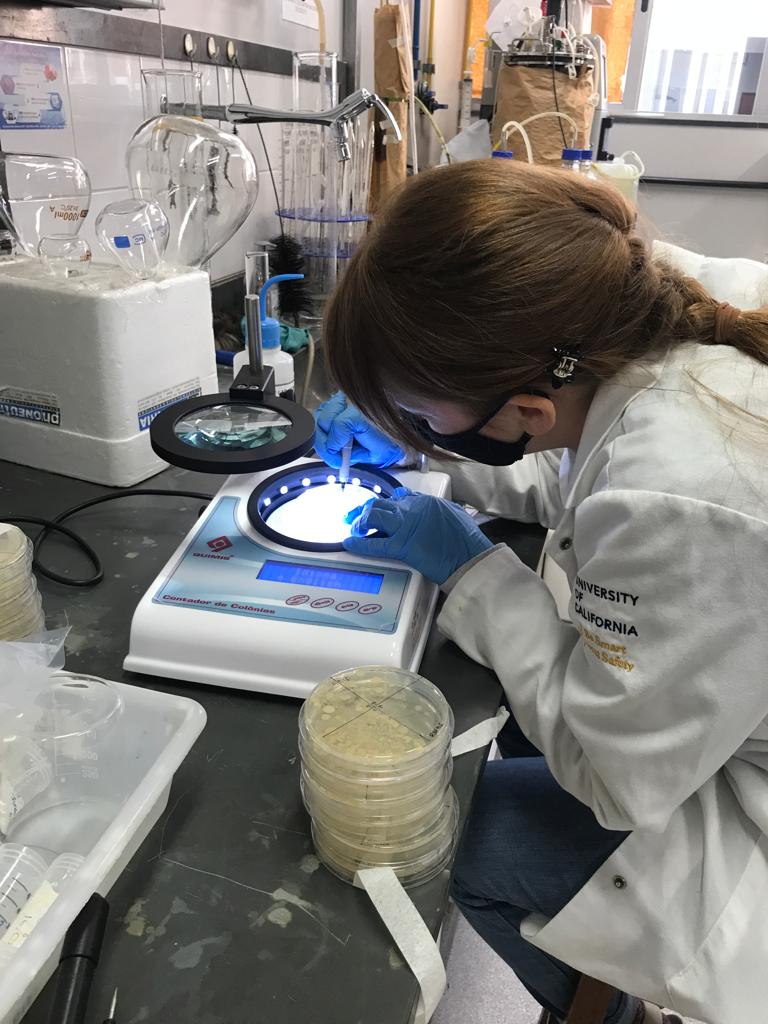 Research Outputs
Rivera, E., Mladenov, N., Astete Vasquez, L., McKenzie, G., Gonzalez, V. (2022). Low maintenance anammox enrichment and nitrogen removal with an anaerobic baffled reactor. Bioresource Technology, 364, 128047, https://doi.org/10.1016/j.biortech.2022.128047
Desludging intervals and solids removal in UASB reactors
Objectives and findings
The objective of this study was to measure the performance of an upflow anaerobic sludge blanket (UASB) reactor for domestic wastewater treatment with respect to the removal of solids and the frequency of sludge removal. The hypothesis was that the desludging interval would impact the efficiency of solids removal by the UASB reactor. The results indicated that the UASB reactor is a robust treatment system, removing 77% of suspended solids on average. Also, there was a significant correlation between the removal of total solids and the number of days since desludging, indicating the importance of regular preventative maintenance.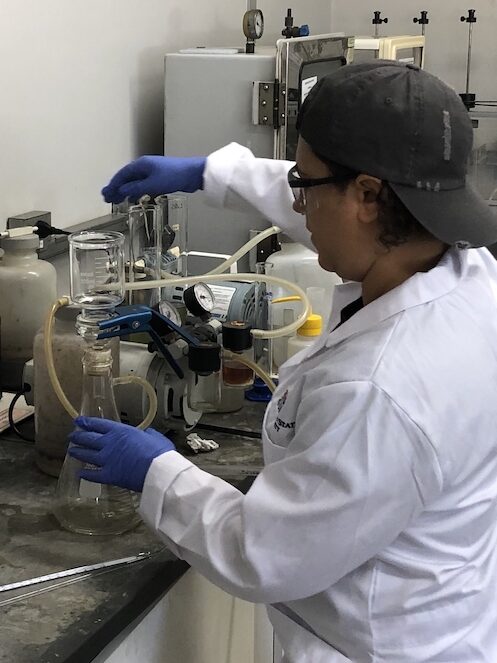 Research outputs
Bennett, L., Palomo, M., Verbyla, M.E. (2020). Solids analysis of a UASB-HRAP wastewater treatment system in Brazil. Cal Poly Pomona Student RSCA Conference (oral presentation), 7 Mar. 2020, California Polytechnical University, Pomona, CA, USA. **This presentation won first place in the regional competition**
Bennett, L., Palomo, M., Verbyla, M.E. (2020). Solids analysis of a UASB-HRAP wastewater treatment system in Brazil. California State University (CSU) Student Research Competition (oral presentation), 25 Apr. 2020, CSU East Bay, CA, USA. **This presentation was a runner-up in the statewide competition**
The autoconstruction of water and sanitation systems and environmental services in urban occupations
Objectives and findings
The objective of this project was to determine which sanitation technologies and practices are used in low-income urban communities and to understand why residents of non-sewered low-income urban communities choose a particular sanitation technology when (auto)constructing their homes.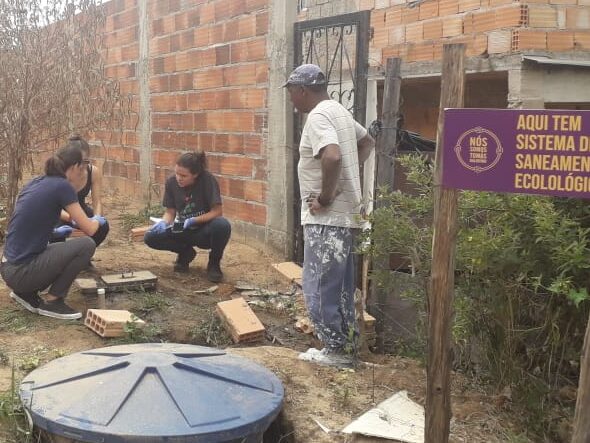 PReliminary findings
Through this work, we have found that community leaders in low-income urban areas in Belo Horizonte generally have a strong preference to connect to centralized sanitary sewer collection systems that are managed and maintained by the public-private water/wastewater company. While awaiting those connections, the most common onsite sanitation solutions were pour flush pit latrines, with few exceptions in communities where local researchers or organizations had installed alternative onsite technologies such as bioreactors or evapotranspiration systems. Results from our ethnographic research showed that decisions made about the type of sanitation technology used at the household level are related to both basic needs and political strategy, as under-resourced neighborhoods sought greater infrastructural improvements and services from city officials. Community members, social movements, architects, and engineers understood sanitation infrastructure as a tool that was essential to forging a path towards urban formalization and citizenship.
Surveillance of SARS-CoV-2 in surface waters for communities without sewer connections
Objectives and findings
The primary objective of this project is to develop methods for monitoring surface waters for SARS-CoV-2 RNA (from the virus that causes COVID-19) to provide insight about infection rates for the ~200,000 people in Belo Horizonte and billions of people around the world that lack sewer connections. Preliminary findings indicate that the travel time for runoff from a two-year storm in Belo Horizonte could be as long as 55 hours, corresponding with potential loss of nearly 50% of the RNA signal. Furthermore, we estimated that the discharge of sewage into rivers and streams in Belo Horizonte makes the virus RNA 10x to 70x more dilute. Considering the dilution effect and the decay effect, we found that there is difference of approximately 1 – 2 orders of magnitude between the detection limits in sewage vs. the detection limits in surface waters, making it much more difficult to detect the virus in these surface waters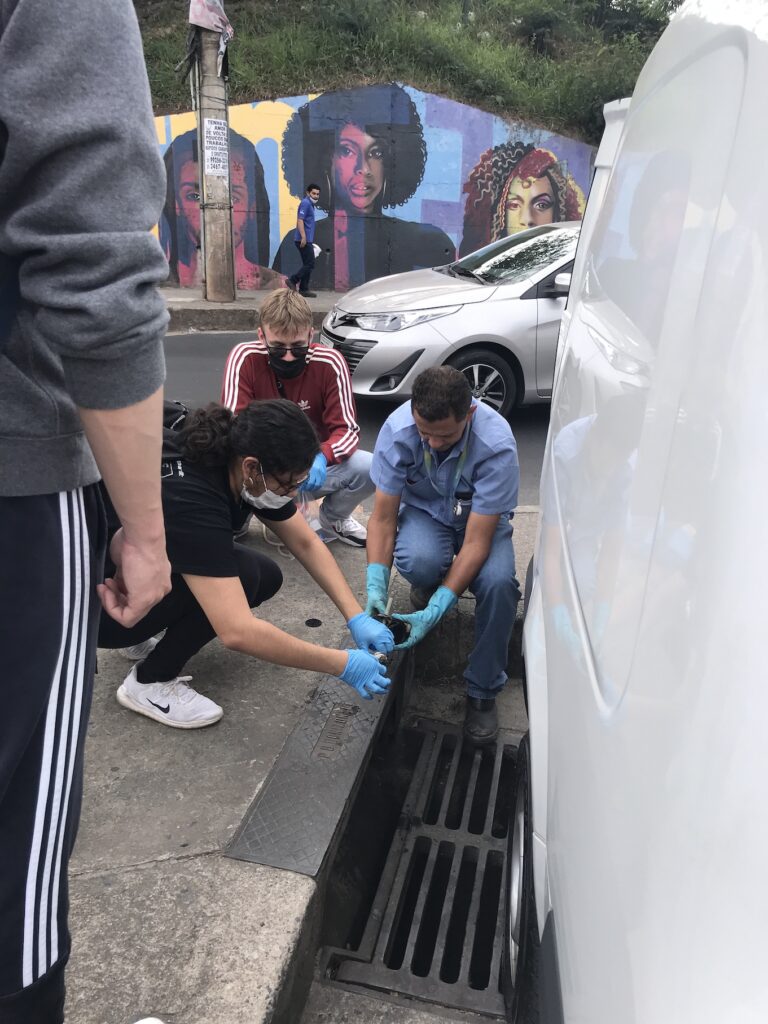 Research Outputs
Rocha, A., Verbyla, M.E., Sant, K., Mladenov, N. (2022). Detection, quantification, and simplified wastewater surveillance model of SARS-CoV-2 in the Tijuana River. ACS ES&T Water (published online ahead of print). https://doi.org/10.1021/acsestwater.2c00062
Plastic pollution in fishing waters
One potential student project for the 2023 cohort involves working with small-scale fishers on the impact of plastics, including microplastics, in the water of Rio de Janeiro's Guanabara Bay. For this project, you would work directly with community members through the non-profit organization Oceana.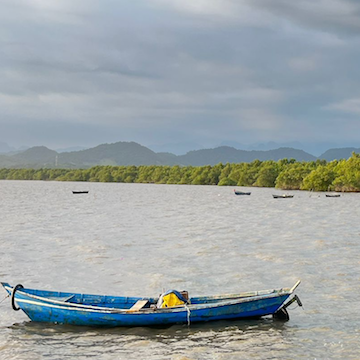 ---
This material is based upon work supported by the National Science Foundation under Grant No. 1827251. Any opinions, findings, and conclusions or recommendations expressed in this material are those of the author(s) and do not necessarily reflect the views of the National Science Foundation.